You've probably heard the old adage, "Content is King". That's because content attracts an audience. With an audience you can qualify new leads. And once you've captured those leads, you can market your product and services to close sales.
Smart content marketers know that going in with a clear strategy is key to your success. I'm here to tell you that there is one type of content that should be considered when developing your content marketing strategy.
It is the one type of content where you can truly use your voice to educate and amplify your message.
First of all, did you know ZGM has a podcast? In January, Peter Bishop, Scott Irwin and myself started a podcast called Table Side Mashed Potatoes. It's a digital marketing podcast that was started by us as a way to "talk shop", drink cocktails and have a laugh.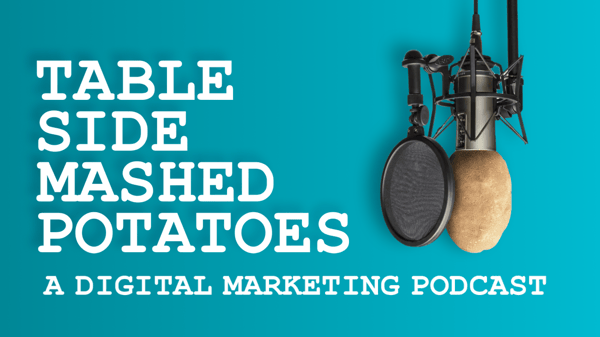 What we didn't expect was our increased listenership (is that a word?). So it was important for us to begin offering substance. We provide marketing tips and insights that might help answer some of the burning questions our listeners have. And if we didn't have the answer, we'd have a subject matter expert on the show to help answer that questions for us.
Podcasting has truly grown from a little-known and misunderstood form of content to an incredibly powerful content type that builds trust and loyalty.
Podcasting might not work for every business
---
From a business point of view, podcasting can be an incredible marketing tool. But I should begin by saying that it might not work for every type of business. Your businesses audience persona should always help define how your content is distributed. If your audience aren't the type that watches video or listens to podcasts, then you probably shouldn't spend your valuable time producing them.
But for those businesses where it does work, it can yield great results:
You can attract new audiences
Your voice can help gain trust and loyalty
AND YOU CAN CLOSE MORE CLIENTS AND SALES!
In this blog, I'm going to talk about business podcasting and why and how to get started with it. So plug in your headphones, make yourself a cocktail (click for perfect Negroni recipe) and hopefully gain some inspiration to diversify your content marketing initiatives.
So, why podcasting?
---
Podcasts are enhanced forms of content. They're more engaging than written articles, they (can possibly be) evergreen and most of all, they offer a lot of value to the listener.
Podcasts are also driving loyalty.
Approx. 80% of podcast listeners listen to all or most of each episode of series they enjoy.
Podcast fans are truly devoted listeners. In fact, 76% of podcast listeners tune-in to podcasts more than 7 hours a week!
According to Edison Research, in 2019, 74% say they listen to podcasts to learn something new; 71% listen for entertainment purposes; and 59% say they listen to feel smarter. And in 2020, the stats may have increased.
There are several huge benefits to leveraging podcasting for business:
A great podcast will help you get discovered by people all over the world through Podcast distributers like Apple Podcasts or Spotify.
Podcasts can help build trust if you include things like tips, insights, and interviews with people and subject matter experts who have influence on a specific industry or topic.
And it could be a great way to close new customers. A successful podcast that proves your knowledge and skills can help attract clients to you.
Who are podcasts for?
---
If you spend any time rummaging through any type of podcast platform (Apple podcasts, Spotify, Player FM, etc.) you'll immediately notice that there are podcasts about everything. Comedy, parenting, marketing and more.
Podcast marketing can work for a variety of businesses as an educational tool for their target market.
A few examples:
Let's say you're in charge of marketing for a home builder. Well, you might start a podcast that's designed to deliver a broad range of consumer information for new home buyers, owners, contractors, etc.
Maybe you work in education. You can start a podcast that helps new or potential college students navigate through enrolment processes or you could use the podcast to deliver career guidance.
Perhaps you want to use your podcast for good. If you a non-profit, you can utilize your podcast to help listeners connect with you by presenting information on mental health issues when they feel the most vulnerable.
Basically, for almost any industry, there is a way to leverage podcasting.
How to get started in 5-easy steps
---
If you're sick of reading, you can listen to our podcast on why to create a podcast and how to start one. This is our first podcast episode with several mistakes and a few swear words.
First of all, there's a myth that it takes quite a bit to start a podcast. But actually, it's pretty easy to get started. Obviously, the more successful your podcast becomes, the more you should look to invest so the quality gets better. But in the meantime, all you really need is a computer, laptop or smartphone, software and a decent internet connection. Press record, talk, edit and publish.
But here are 5 steps that will help guide your podcast strategy:
1) Define your audience
Who do you want to reach with your podcast? Like your other content initiatives, create personas to reflect the audience you want to reach. Conduct some keyword research to figure out what they're looking for and to identify their goals and pain points.
2) Come up with topics
Based on your audience persona, come up with appropriate topics to discuss in your podcasts.
Make sure your continue to relevant to your target audience and it provides value.
Make sure the basis around your topics give you enough to work with so that you can create unlimited episodes.
Make sure it's a topic you're knowledgable about.
3) Decide on a podcast format and frequency
Be consistent in terms of quality, frequency and format.
Choose a length: How long do you want your podcast to be? It can last from anywhere from 10-15 minutes to hours. One tip is to think about how listeners are listening to your podcast. Some may be listening on their commute to and from work (maybe 20 minutes?), some are listening while they're out walking their dog (maybe 45?), and others may be listening while they're at the gym (1 hour?).
Publishing frequency: Choose how frequently you want to publish new episodes. The more listeners you get, the more you're going to want to be consistent with exact days and times that you're going to publish the podcast. This way, your fans will know exactly when to expect the next episode.
Format: Your podcast can take on a bunch of different formats along it's course, but generally you need to establish exactly what type of podcast you're planning to create:

An interview podcast
Podcasts with two (or more) hosts
Podcasts with a single host.
4) The gear
As I mentioned, you can start a podcast with just your laptop, but you do need certain equipment and software to help you deliver a podcast that sounds great:
Microphones: A professional microphone can really elevate the listener's experience. One, it can help the listener hear you clearly. Two, it's more appealing to the ear. Nobody wants to hear a podca

st with constant distortion or tinny sound. Here are a couple of options:

A Mixer: It's not completely necessary if you're using a microphone that connects through USB, however if your microphone connects through an XLR cable or 1/4" jack—you'll need a mixer that has a USB output that connects to your laptop or computer. In addition, you may want to use a mixer to increase your control and flexibility of the recording.

Behringer Q1202USB is the mixer we use, you can plug in an XLR mic or 1/4" jack and it plugs directly into your computer through USB.

Editing software: The most important piece of gear you need for your podcast is editing software. Albeit there are mixers that record to an SD Card and if you're feeling confident and don't feel there is a need to edit your recording, you can simply upload the card and publish the podcast. But if you're like us at TableSide Mashed Potatoes - you need to edit (and there is a lot of editing involved in ours).

Audacity is a bit of a bare bones options, but it's free.
GarageBand is a solid option if you're on a Mac.
Adobe Audition if you're an Adobe Creative Suite user, this is one of the most popular choices for experienced or new podcasters.

Podcast Hosting: Finally, you'll need a place to store and distribute your podcast's audio file. They provide a podcast RSS feed that you will submit to Apple Podcasts and other podcast directories so you'

---

e found online. Another great feature of the podcast hosting platforms is they provide analytics, scheduling tools and even a web player if you'd prefer not to have your podcast on any other distribution platform.

Buzzsprout is an easy to use host that delivers everything you need to run a successful podcast.
5) Click record and have fun
Podcasting is a really fun activity and once you get your groove going, it can be an enjoyable way to generate new leads to your business.
There is nothing wrong with the other types of content you may be running such as videos, social media and blogging. But with the internet being filled with an ample amount of written content, podcasts are a nice audible way to diversify your content offerings and engage customers from the monotony. We recommend podcasting if you're interested in creating highly interactive ways to convey your messages and if you're looking to build your business' fanbase.
Need some gear advice?
---
If you're looking to get started on your podcast and you're searching for additional advice on the equipment needed to run the podcast, I would be happy to offer you some free advice. Feel free to send me an email and we can plan a chat.